"Fête de la musique"
On a theme by Boris Vian
Thursday 21 June 2018, 19:00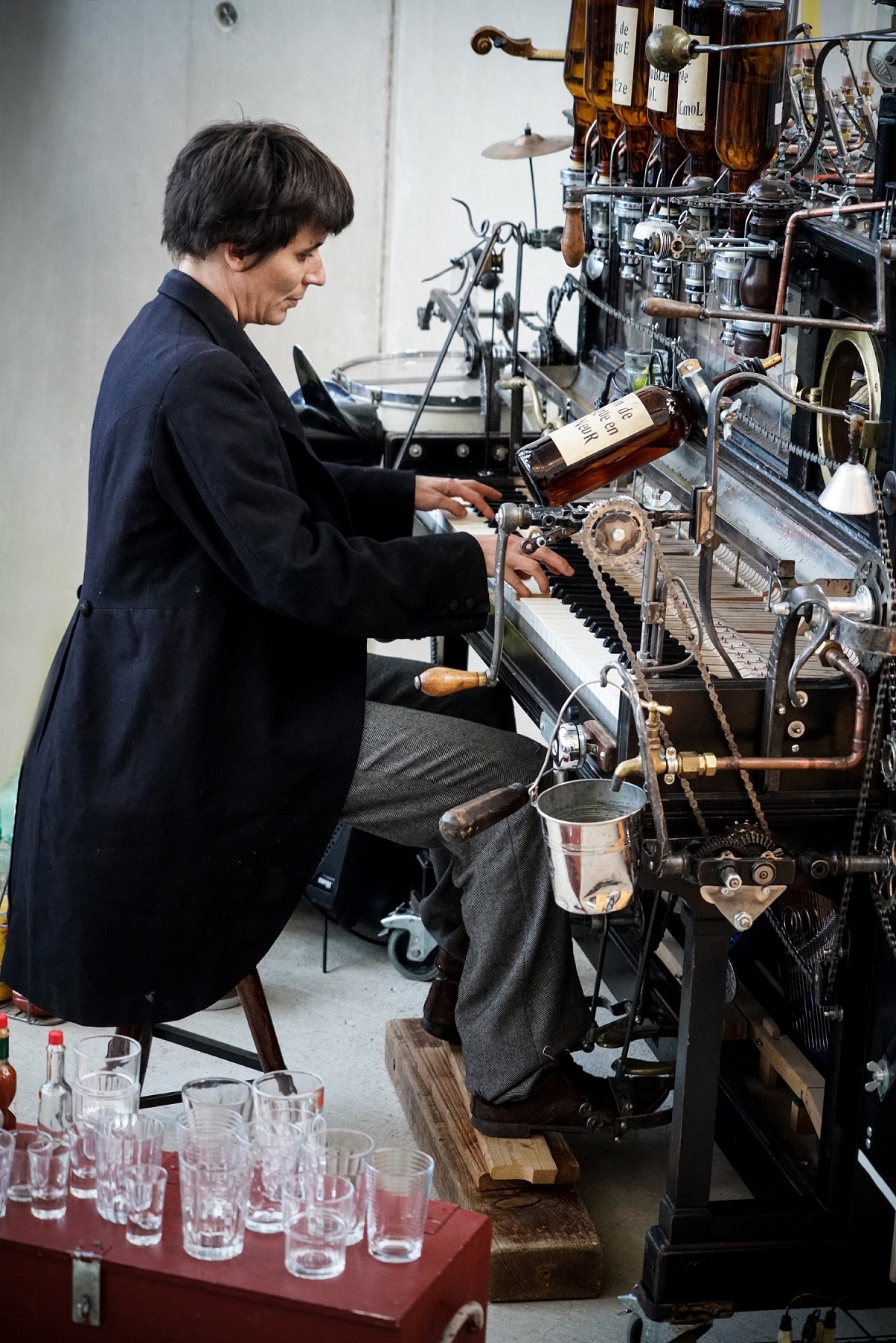 © Fondation Jan Michalski, Wiktoria Bosc
Event completed
Entrance
Free, without registration
Program
Pianocktail
A musicodelirious performance around a marvelous instrument that concocts cocktails to the sound of melodies, dreamed up by Boris Vian in his novel L'écume des jours, constructed by the ingenious Nicolas Schenkel, and played by his sister Géraldine. They also call it the pianococktail. With this piano, which is fitted out with several types of spirits and funnels, and extended with a music mill, a wheeled violin, a peppershakerbell, a bicycle chain and other derailleurs, music pours out, grinds, and shakes clatteringly loose a bar here and a staff there… A well-placed trill mixes rum with sugarcane syrup and a shot of tequila comes pouring out with an F sharp. Each cocktail has its musical accompaniment: choose a spirit… or a melody… and your request is passed along to the pianist.
Médéric Collignon | Yvan Robilliard Duo
The staggeringly gifted cornet player and 2008 winner of the highly coveted Django Reinhardt Prize for the jazz musician of the year, Médéric Collignon is one of the most gobsmacking artists of his generation. A virtuoso vocalist who combines beatbox and scat, this sparkling artist who admits he is allergic to compromising his principles is a free spirit in the jazz world. He will be performing here alongside Yvan Robilliard, a young pianist and composer who displays a jaw-dropping mastery of the keyboard and was drawn to jazz and improvisation while practically in short pants. He has worked with a number of first-rate musicians, including Antoine Hervé and Michel Portal. The Collignon-Robilliard Duo is an allegory, poetic and explosive at one and the same time, and fiendishly inspired by the nonconformist Boris Vian himself.
Médéric Collignon (bugles and voice) and Yvan Robilliard (keyboards)