BIBLIOTOPIA 2020
Week-end des littératures autour du monde
From 20 November to 22 November 2020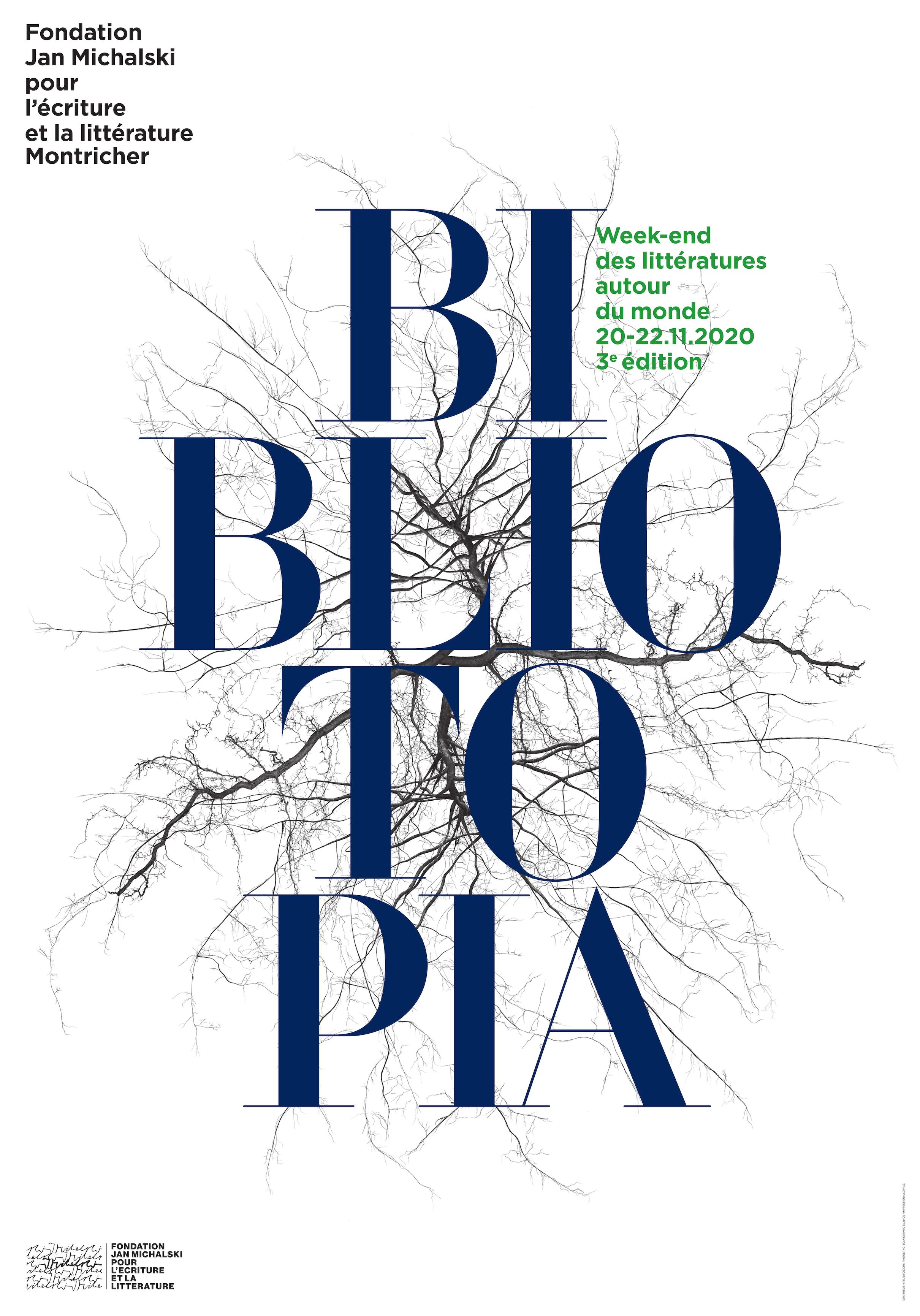 Bibliotopia 2020 invited you to discover one of the richest themes in the world literature – family. Through fiction and non-fiction, international writers will explore the changing nature of modern families and the intricate relationships within them; the interplay between the personal and the political; and the complicated legacy of family history.
Elisa Shua Dusapin and Pascale Kramer in Conversation
On Family and Personal Identity
In French | Moderation: Salomé Kiner, journalist and literary critic
Also in English | Interpretation: Starr Pirot et Frances Steinig-Huang
Biographies
Elisa Shua Dusapin, of Korean and French heritage, was raised in Paris, Seoul and the Swiss Jura. She graduated in 2014 from l'Institut littéraire suisse de Bienne (Haute Ecole des Arts de Berne). She is an award-winning author of three novels, Winter in Sokcho (Robert Walser Prize 2016, Révélation de la Société des Gens de Lettres Prize), and Les billes du Pachinko (Prix suisse de littérature 2019). Her latest novel, Vladivostok Circus, has been in the first selection of Prix Femina 2020. Her novels, all published in French by Zoe Editions, take the reader to Korea, Japan and eastern Russia, and explore the themes of family and ancestry, shared identities and divided selves.

Pascale Kramer, born in Geneva, was raised in Lausanne and now lives in Paris. She is the prize-winning writer of fourteen books, including three novels published in English: The Living (University of Nebraska Press, 2007), The Child (Bellevue Literary Press, 2013) and Autopsy of a Father (Bellevue Literary Press, 2017). Une famille (Flammarion, 2018), her latest novel, focuses on the life of a family affected by the alcoholism of one of the children. She is the recipient of the 2017 Swiss Grand Prize for Literature awarded for her entire body of work, and other prestigious Swiss literary prizes including the Dentan Prize and the Schiller Prize. She directs an annual Paris documentary film festival about children's rights, "Enfances dans le monde", which she co-founded. 
A Conversation with Jennifer Croft
Language, Illness and a Sisterly Bond; a Memoir of Adolescence
Moderation : Matthew Wake, bookseller at Books Books Books
In English
Biography
Jennifer Croft, is an American writer and translator, who translates into English from Polish, Ukrainian and Spanish. She won the Man Booker International Prize for her translation from Polish of Nobel laureate Olga Tokarczuk's Flights (Fitzcarraldo, 2017). Her translations include Romina Paula's (August Feminist Press at The City University of New York 2017), Federico Falco's A Perfect Cemetery (Charco Press, to be published in 2021), Pedro Mairal's The Woman from Uruguay (Bloomsbury Publishing, 2021), and Olga Tokarczuk's The Books of Jacob (Fitzcarraldo Editions, 2022). She holds a PhD in Comparative Literary Studies from Northwestern University and an MFA in Literary Translation from the University of Iowa. She is the author of Serpientes y escaleras (Penguin Random House Argentina, 2016) and Homesick (Unnamed Press, 2019), and numerous pieces in The New York Times, The Los Angeles Review of Books, The Paris Review Daily, The New York Review Daily, and elsewhere. Homesick written both in English and in Spanish, is a memoir about a sisterly bond, the power of language and growing up in Oklahoma.  
Program for Saturday June 5th
A Conversation with Kaouther Adimi
Origins, Freedom and Generational Conflict
Moderation : Oriane Jeancourt, writer and editor at Transfuge magazine
In French
Biography
Kaouther Adimi, born in 1986 in Algiers, lives in Paris. She is the prize-winning author of four novels. Our Riches (New Directions, 2020), her first novel translated into English, was shortlisted for the Goncourt and won the Prix Renaudot des lycéens, the Prix du Style, the Prix Beur FM Méditerranée, and the Choix Goncourt de l'Italie. The theme of family, belonging, origins and history often appears in her fiction, notably in Des pierres dans ma poche (Barzakh, 2015; Seuil, 2016). Les petits de Décembre, her most recent book, is inspired by the young people's rebellion in Algiers in 2006.
Echoes of Bibliotopia: readings by students from La Manufacture 
Bénédicte Amsler, Délia Antonio, Emeric Cheseaux and Arcadi Radeff, students from the Lausanne Theater School – La Manufacture, will read some texts of the 2020 Bibliotopia invited authors.
In collaboration with René Zahnd, playwright
Anna Bikont and Philippe Sands in Conversation
The Crimes of our Fathers; Community, Family and Individual Memories
In French | Moderation: Salomé Kiner, journalist and literary critic
Also in English | Interpretation: Starr Pirot et Frances Steinig-Huang
Biographies
Anna Bikont, born in 1954 in Warsaw, is a prize-winning Polish journalist and nonfiction writer. She co-founded and ran the underground weekly Tygodnik Mazowsze, which was associated with the Solidarity movement from 1981 to 1989. In 1989 she was one of the co-founders of Gazeta Wyborcza, the first independent daily newspaper in post-Communist Europe, where she continues to work. Of Jewish origins, she discovered her roots by accident at the age of thirty-three. She is the author of several books, including My z Jedwabnego (Prószyński i S-ka, 2004), published in English as The Crime and the Silence; A Quest for the Truth of a Wartime Massacre, (Heinemann, 2015) about the 1941 pogrom of Jewish population by their Polish neighbors in a small town of Jedwabne. The French edition of the book won the European Book Prize in 2011.

Philippe Sands QC, born in 1960, is one of the UK's most prominent human rights lawyers, celebrated for his work in international human rights. He has been involved in many of the most important cases of recent years, including Pinochet, Congo, Yugoslavia, Rwanda, Iraq and Guantanamo, frequently appearing before international courts including the International Criminal Court and the International Court of Justice in The Hague. He is also a Professor of Law at UCL, President of English PEN and a member of the Board of the Hay Festival. His last book, the Sunday Times bestseller, East West Street (Weidenfeld & Nicolson, 2016) won numerous prizes, including the Baillie Gifford Prize and the Prix Montaigne. The Ratline; Love Lies and Justice on the Trail of a Nazi Fugitive (Weidenfeld & Nicolson, 2020) is his latest book and looks at the daily life of a high-ranking Nazi, his attempts to escape Europe after the war and the way his ancestors see him now. My Nazi Legacy (2015) is a documentary film he made when researching for this book.